Yandex企业邮箱是当今为数不多的免费且质量不错的邮箱。在去年下半年Yandex将旗下的企业邮箱等服务合并进了Yandex Connect,笔者在这里会将Yandex Connect配置企业邮箱的方法进行一些整理。

2019.11.20: 更新为当前的版本,步骤更少了
---
Yandex邮箱的主要优势:支持SMTP POP3协议(ZOHO不支持)、一个域名下可以有1000个邮箱、送达率高不易进垃圾箱
所需要的:一个域名、梯子(通常不需要)、翻译工具
一、申请Yandex Mail帐户&提交域名邮箱申请
前往https://mail.yandex.com,点击Creat an account创建帐号,填写信息完成注册并登录。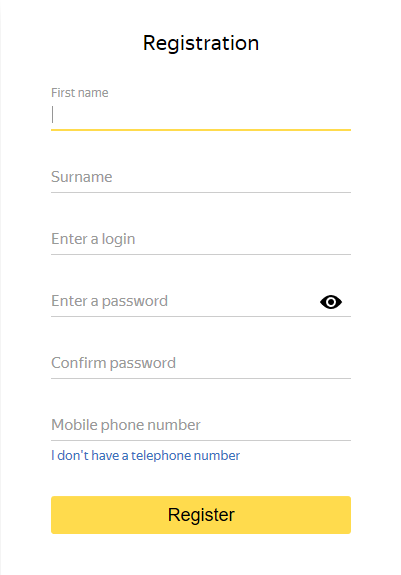 登录Yandex帐号后,进入域名邮箱注册页面:https://connect.yandex.com/pdd/(如图)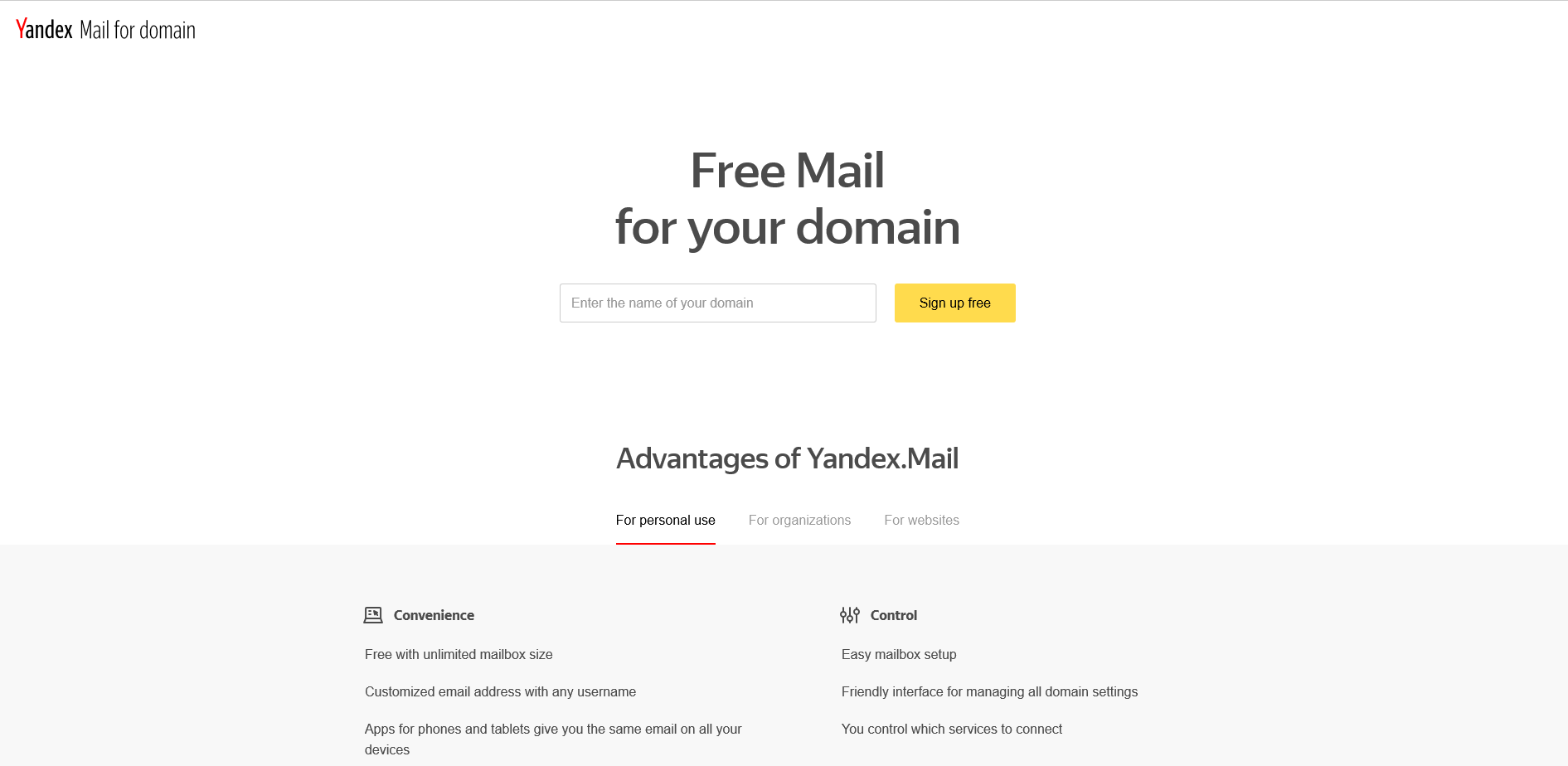 填写你的域名,点击Sign up free继续,就会进入Yandex Connect的服务页面https://connect.yandex.com/portal/services/webmaster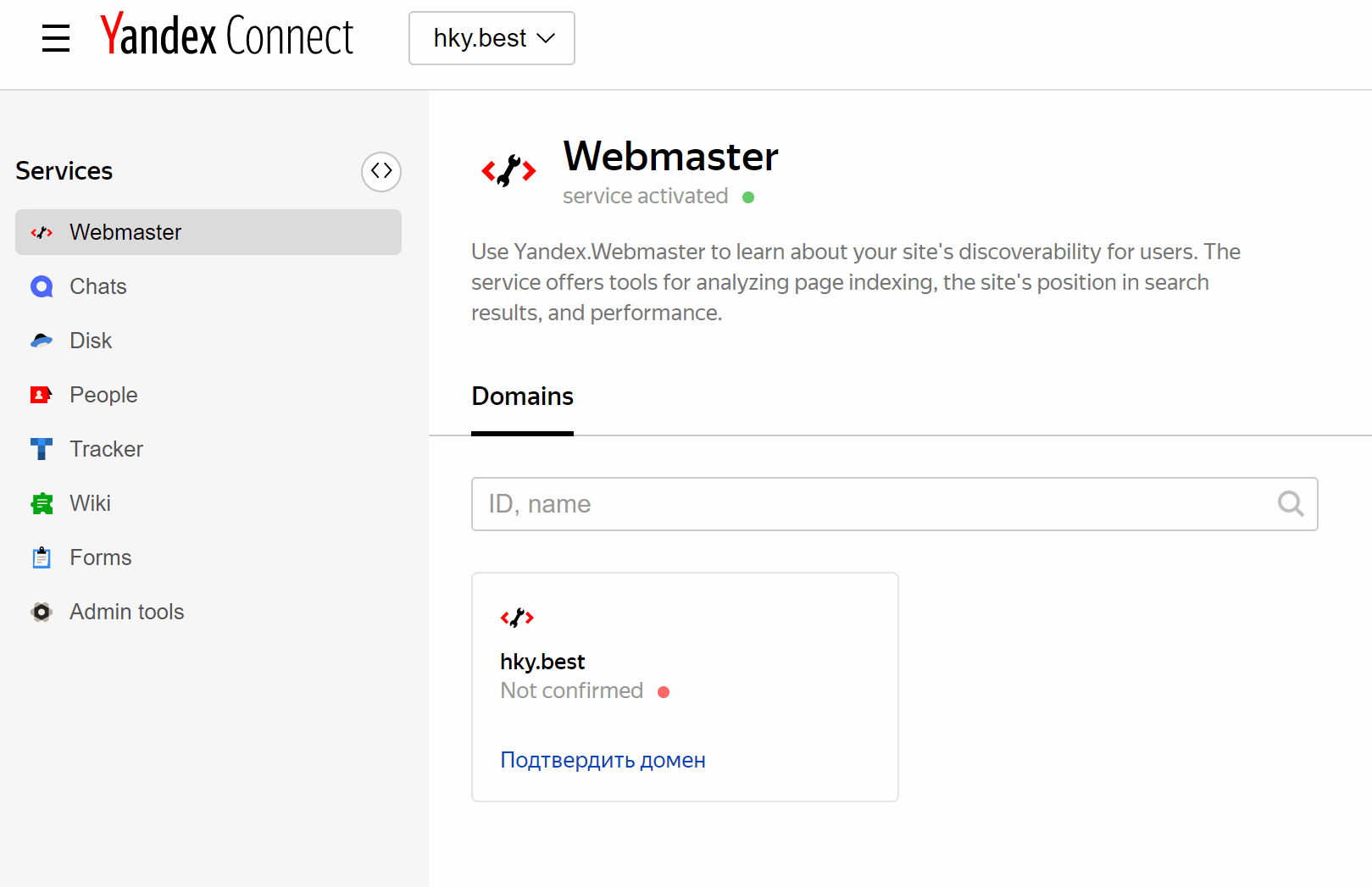 二、验证域名所有权
点击域名下的Подтвердить домен(验证域名)即可开始验证域名所有权。
添加时警告框中的内容,其实对大部分人没有影响:You can only verify domain ownership with a meta tag, HTML file, or DNS record. If your site is located outside the domain zone of RU or the Russian Federation, you can also confirm it through WHOIS. You cannot verify a domain through delegation. The domain must first be confirmed and only then delegated.
有四种验证方法:
HTML File:在网站根目录下创建yandex_*.html文件(图中划线部分)并将文本框中的代码复制进去
Meta Tag:在域名主页网站的<head>标签内增加Yandex所提供的代码行

DNS Record:在域名管理页面将文本框中的内容添加为TXT Record记录,正常情况下,最长需要72h才能完成验证
WHOIS:如今大部分域名应该都提供WHOIS保护,个人不推荐使用(ps: .ru和属于俄罗斯联邦的域名无法使用whois认证方式)
选择任意方法进行验证,配置完成后点击Check验证即可。
三、配置MX记录、设置SPF记录与DKIM
验证完成后已经可以添加邮箱了,不过在此之前需要配置cname, MX, SPF, DKIM记录。
在域名托管商的管理面板中添加网页表格中的提供的所有记录,直接点击Add DNS Record通常是不生效的:
 黄色提示框中的文字: The DNS editor works only for sites delegated to Yandex servers. If your site is not delegated to Yandex, the settings will not be applied. For more information, see the Help topics DNS Editor and Domain Delegation.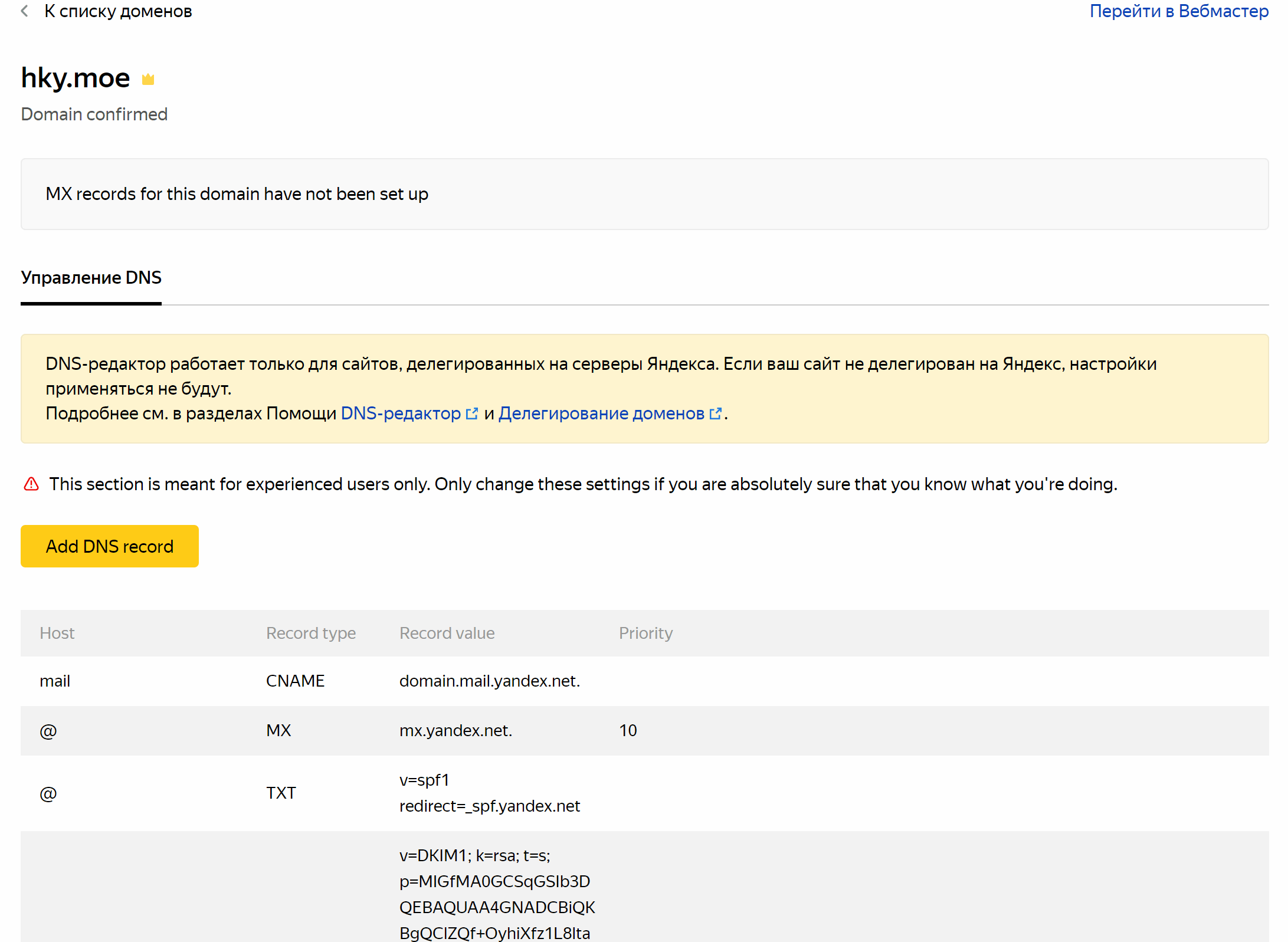 CName记录
Value — domain.mail.yandex.net.←-不要丢了最后的点,虽然某些托管商会将它去掉
Name / Host: mail
MX记录
Value — mx.yandex.net.←-不要丢了最后的点,虽然某些托管商会将它去掉
Priority — 10
(Subdomain) Name / Host — @←-不可以的话填写域名
SPF Record
添加一条TXT记录
Value — v=spf1 redirect=_spf.yandex.net
Name / Host — @←-不可以的话填写域名
DKIM signature
添加一条TXT记录
Name / Host — mail._domainkey
Value — 复制表格中即可
如果忘记了添加Value值,日后可以需要从Service-Mail -- DKIM signatures中获取。
完成后最多需要72小时生效。
四、添加邮箱帐户
完成上述步骤后,从侧栏Admin tools进入Yandex Connect,再点击Все сотрудники进入人员管理页面。点击下方的Add-Add a person添加帐户。填写好必填信息,即可使用添加的帐号&密码在Yandex Mail中登录。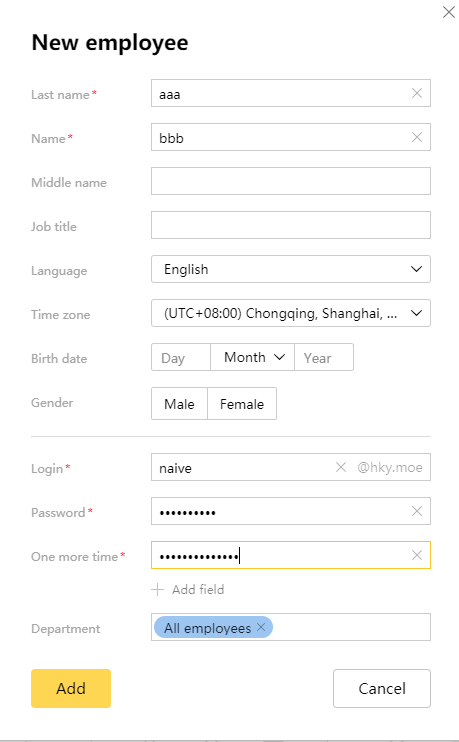 最后不要忘记了登陆一下新添加的邮箱,感谢评论区woytu的提醒:
woytu:应该还有一个步骤,就是当所有配置完成后,新添加的用户需要去登录一次才能使用,因为首次登陆需要同意一个协议
五、邮件收发测试和配置到其他邮件服务商
先使用Yandex Mail登录刚才的帐号,进行手动收发测试,还可以在https://www.mail-tester.com检测发件效果。
完成上述步骤后就可以配置POP3/SMTP收发邮件了。
POP3:pop.yandex.com SSL端口:995
SMTP:smtp.yandex.com SSL端口:465
IMAP:imap.yandex.com SSL端口:993
PS: QQ邮箱网页端是不支持IMAP收取的,发出的邮件会显示由QQ邮箱代发,需要在其他邮箱帐户设置中修改为其他邮箱的SMTP服务器发送,如下图: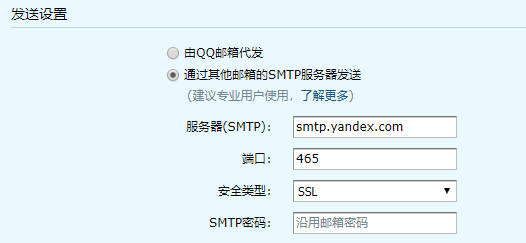 至此Yandex企业邮箱就配置完成了。